Amethyst Jewelry
Natural Amethyst Earrings, Bracelets, Rings & Necklaces
Natural
amethyst jewelry
designs available in a wide variety of shapes, sizes and styles
Each design is set in solid 14k gold, or in sterling silver.
These genuine amethyst rings, bracelets, necklaces and pendants are set with natural amethyst gemstones.
Genuine Amethyst Jewelry Designs
Select any Amethyst Jewelry Image Below To See Available Jewelry Items
When you visit mineralminers.com, you're guaranteed to find "Collector Quality Amethyst Jewelry At Miners' Prices!"TM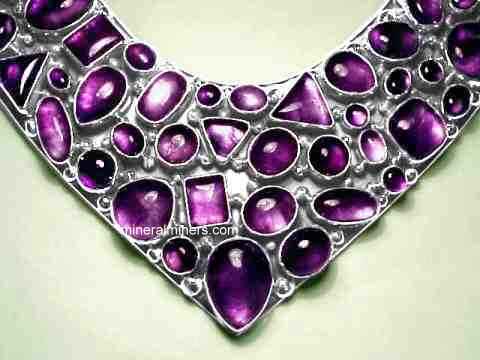 Amethyst jewelry is the traditional birthstone jewelry gift for the month of February. Amethyst is also the symbolic gemstone for the 17th wedding anniversary. The astrological signs of amethyst are Pisces, Virgo, Aquarius and Capricorn.
The name amethyst comes from the Greek word amethustos which means not drunken. The early Greeks believed that amethyst would protect one from the effects of drunkenness when consuming alcohol.
In ancient cultures, amethyst amulets were worn as antidotes against poison, to dispell sleep, as protection against harm in battle and to sharpen one's wits.
In medieval times, amethyst was still credited with protecting one from the effects of drunkenness, both of the cup and also from the intoxicating effects of being in love. The wearing of amethyst was also known to protect soldiers from harm and give them victory over their enemies.
To learn more about natural amethyst, see the amethyst information page.
Follow the handcrafted amethyst jewelry image link displayed above to enter directly into the mineralminers.com Virtual Gallery of Natural Amethyst Jewelry, complete with images, descriptions and secure SSL on-line ordering. This page has many different styles of genuine amethyst jewelry designs including amethyst necklaces, amethyst bracelets, amethyst rings and amethyst pendants - all set with natural color amethyst gemstones cut from genuine amethyst crystals that were mined in Brazil and Africa. These superior quality natural amethyst jewelry items are sold and replaced on a daily basis, so remember to bookmark the page and visit often!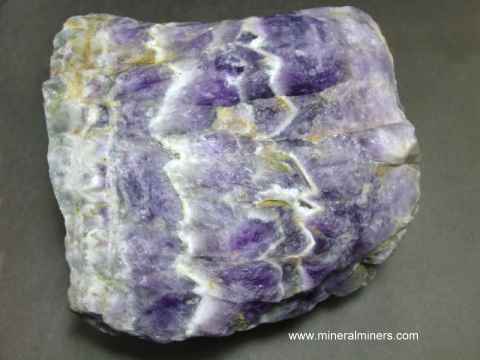 You will also see natural amethyst crystals & amethyst mineral specimens just the way they came out of the earth!
Natural chevron amethyst specimens form in hydrothermal vein deposits within the earth - they make great decorator mineral specimens and also are used as amethyst lapidary rough to make genuine amethyst spheres, bookends, gemstones and carvings.
Amethyst specimens are also available as loose amethyst crystals and as amethyst crystals on matrix, sometimes in the form of amethyst geodes, which are hollow matrix specimens with crystals on the inside.
Other rare quality amethyst collectible items are available as well including amethyst spheres and polished amethyst crystals.

Amethyst is a macrocrystalline variety of the mineral Quartz.
Quartz varieties are commonly separated into two groups based on the size of the individual grains or crystals; macrocrystalline quartz in which individual crystals are distinguishable with the naked eye, and cryptocrystalline quartz in which the individual crystals are so small that they are not easily distinguishable even under the light microscope.
Some of the natural macrocrystalline quartz varieties are; natural color purple quartz (Amethyst), natural quartz with golden-orange-yellow color (Citrine), natural colorless quartz (known as Rock Crystal or as Quartz Crystal), natural color rose-pink quartz (Rose Quartz), natural quartz crystal with rutile inclusions (Rutilated Quartz), and natural color gray-brown quartz crystal known as Smoky Quartz.
The popular quartz varieties Blue Aventurine Quartz and also Green Aventurine Quartz are actually quartzite varieties which are rocks, not minerals, composed essentially of interlocking macrocrystalline quartz grains with disseminated grains of the color imparting minerals blue dumortierite and green fuchsite.
Amethyst spheres are handcrafted from natural color amethyst rough specimens and from large size amethyst crystals.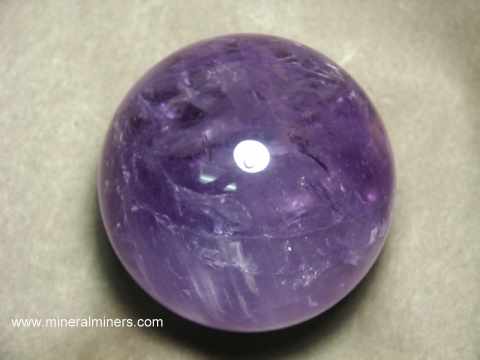 Amethyst occurs in nature in siliceous volcanics, sometimes forming geodes. Amethyst also occurs in quartz veins.
The purple color of natural amethyst is due to small amounts (approximately 40 parts per million) of oxidized iron impurities at specific sites in the crystal structure of quartz.
To see more jewelry items, gems, collectables, or crystals for another mineral variety, visit the alphabetical Mineral Index at mineralminers.com with links to images of natural gift items for each mineral listed in this index - all with secure SSL on-line ordering.
There also are links to information pages on the different minerals giving factual scientific information as well as historical background info and the metaphysical properties for each mineral variety.
---
Last Updated: August 29, 2017
© Copyright 2000-2017
amethystjewelrydesigns.com®
All Rights Reserved.
Presented by the GMM Inc. Genuine Gemstone Jewelry Network
®